Get the network infrastructure resources here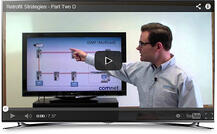 Data and Ethernet transmissions are occurring across many types of copper wire, fiber optic cable, and point to point wireless systems. The network traffic often includes corporate computer data, IP cameras, Voice over IP phones, and many more IP-based communication systems for security, process automation, electrical systems, and other business needs.
This dedicated resource site allows you the option to:
Learn about the various options for data and Ethernet transmission
Learn about Ethernet media converters
Watch how easy it is to set up a point to point wireless radio transmitter and receiver
Learn what an SFP is
Learn about options for maximizing infrastructure when migrating from analog to IP video
Learn about options for utilizing existing analog wiring for new IP cameras
Learn about options for replacing analog wiring with new, Ethernet cabling
Learn about network design considerations
Understand the difference between managed and unmanaged network switches
Learn about multicast networking
Receive network switch, fiber optic,and wireless catalogs and brochures
Request a specifier binder (for A&E firms only please)
Request personalized network training for your sales and installtion teams
Request a quote online
Fill in the short form below and will you have immediate access to all of these resources . . .