Command Center Furniture
winsted
Winsted is the worldwide leader in command and control room consoles for 24/7 mission-critical applications. For over 55 years they have been engineering product designs that consider both the application and the user. Winsted offers the industry's most flexible range of ergonomic sit/stand continuous use technical furniture to reduce fatigue and promote productivity.
Choose from their extensive catalog offering, customized solutions, or fully custom product options. Winsted's industrial interior design experts will help you specify the best products to fit your needs and provide room design and layout services.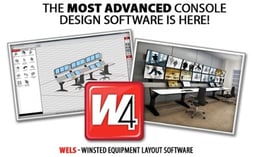 WELS is a console design software tool that makes control room design and layout fast, easy, accurate, and fun. This interactive, Winsted-exclusive, user-friendly, 3D control room design software program lets you use Winsted consoles and furniture to quickly design control room solutions that meet your needs. WELS is easy to use - and requires no additional design/CAD software to operate.
Download WELS DIY Console Design Software for Free