Chesapeake and Midlantic Marketing is a technical manufacturer's representative firm in the security industry in Maryland, Virginia, Washington DC, Pennsylvania, New Jersey, and Delaware.
We provide free technical education, system demonstration, system design and specification assistance, solution budgeting, and after sale support to security end users and their supply chain.
We represent a small handful of manufacturers in the security industry.
Essentially we are technical field sales representatives and are experts in the security and communication solutions business.
We Provide Expert | Security | Advice
We are geographically positioned to provide local services and support from Virginia to Pennsylvania. We work to provide rapid, multiple means of supporting and responding to our customers, serving partners in the Mid-Atlantic from two main offices in Chadds Ford, PA and Abingdon, MD. Team members are available to provide help at all phases of the project cycle, from system design to after-sale support.
Primary Services
Technical Education
System Design
Product Demonstrations
Proof of Concept
Project Design
Specification Asssitance
Onsite Installation Support (fee based)
After-sale Support
Customer Service
Learn about the MidChes Advantage - view pdf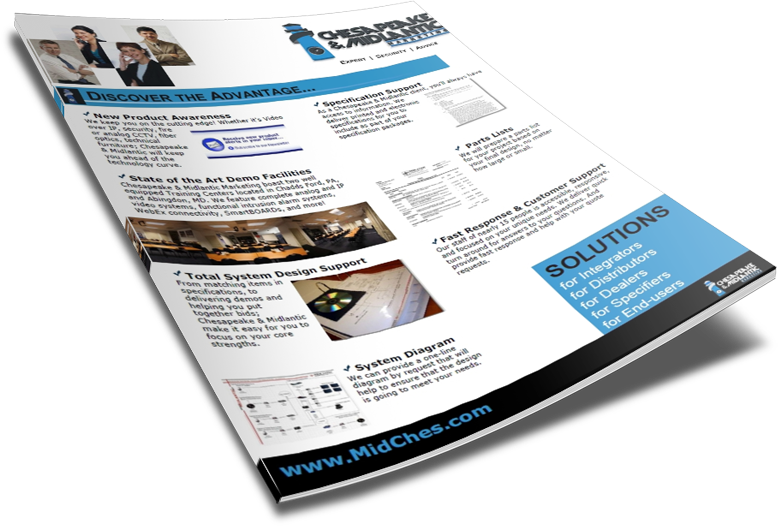 Our Expertise
While security products are used in just about every business you visit every day, we hold a particularly deep knowledge of security applications in these segments:
Federal Government
State & Local Government
Healthcare
Corrections
Industrial and Manufacturing
Corporate
Transportation
K-12 and Higher Education
Critical Infrastructure
What We Don't Do
In many cases, it's actually easier to list what part we don't play in the security industry to provide a bit of clarity:
We are not a security dealer . . . but we know everyone who is
We are not a distributor . . . but we can find one for you if you're a security dealer
We are not an engineering firm . . but we help write specifications