Powerful Questions about VMS Selection and Performance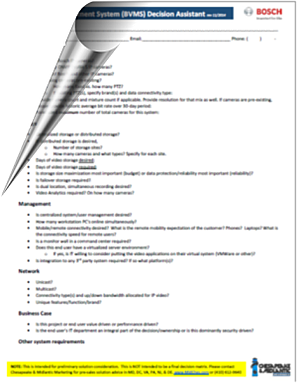 "Is it easier for us to tell you where our solution is weakest based on architecture and features, so you know when NOT to use a specific VMS?"
Needless to say we get some strange looks coming back at us when we ask this question..
Apparently being frank and transparent about one's weakness is not normal. Well, perhaps we're not a normal sales team then!
Download the VMS question checklist now for free and understand the questions to ask about:
Camera compatibility with a VMS
Storage location or co-location
Video retention time
Video analytics
Centralized VMS management (LDAP, users, common database, etc)
Mobile and remote connectivity
Command center design
Server virtualization
Network infrastructure
Busniess case considerations
Let us know a little about you below and you'll get the document immediately for free.